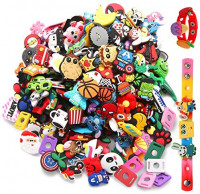 TMPCharms 100 Pcs Random PVC Shoe Charms+2 Pcs Wristbands+10 Pcs Shoe Lace Adapters,Charms for Teens Girls and Boys Fit for Croc Clog Shoes Decoration Disney,Marvel,Peppa Pig,Sports: Shoes
TMPCharms 100 Pcs Random PVC Shoe Charms+2 Pcs Wristbands+10 Pcs Shoe Lace Adapters,Charms for Teens Girls and Boys Fit for Croc Clog Shoes Decoration Disney,Marvel,Peppa Pig,Sports: Shoes
We will do a research of manufacturers of this type of product in China, agree on the best price, organize quality control and deliver to your address at the world's lowest price.
---
You Can Have A Wide Variety Of Shoe Charms And 2 Pcs Charms Wristbands You can get more than 100 pcs random shoe charms to decorate your shoes at a cheap price.There are so many shoe charms that you can choose different shoe charms to decorate every day.There are many kinds of shoe gibbets.The shoe charms for teen girls and boys come from a variety of different comics and cartoons, such as Marvel Movies, Disney, peppa pig and so on.Each charms for teens girls and boys is so cute.
Safe And Durable Our shoe charms for teen girls and boys are made of high quality Safety environmentally non-toxic waterproof PVC material. So you dont have to worry about security at all. Our shoe charms are very durable and wont fall off easily.
Our Shoe Charms Are The Perfect Choices For Decorating Shoes Fit all holey or laced shoes, shoe charms can fit all holey or laced shoes perfectly, fit croc clog shoes perfectly,to make your shoes fun. Its like having new shoes every day.Lovely and cool shoe charms for teen girls and boys to make your holey or laced shoes cuter.Good shoe charms for teen girls.You can easily attach the charms to holey shoes.
10 Pcs Shoe Lace Adapters And well give you 10 pcs extra shoe lace adapters.You can connect any holey or laced shoe charms and shoe lace adapter together.So we can use this charms not only for holey shoes, but also for a wider range of applications.Just use our shoe lace adapters and you can decorate all your shoes with our shoe charms.
Charms Is A Perfect Gift For Children And Charms Helps Children Exchange And Share With Each Other To Enhance Friendship Boys and girls choose their favorite shoe charms to share with their friends, thus greatly enhancing their friendship.These shoe charms are great for Christmas partyEaster Day or Halloween.These shoe charms can be given to children as special gifts or use as reward prizes for good behavior children.
There are more than 100 pcs random PVC shoe charms2 pcs charms wristbands10 pcs random shoe lace adapters in a set.
nbsp
You can get many, many different kinds of safe and durable shoe charms for teen girls and boys that can be used to decorate your holey shoes or any shoes with LACES. Shoe charms fit croc clog shoes perfectly.These shoe charms are gifts that children love and are great for sharing and exchanging between freineds.
nbsp
How to do
Hold the shoe charm buckle to aim at the round hole of the shoe.
Press down the shoe charm hard until you hear the sound of pa.
Putting off shoes charm.
Put one hand inside the shoe and push up the shoe charm with the finger.
Force outward and hold the edge of shoe charm with the other hand to remove it.
nbsp
Tips
Normally, brand new shoes area little bit tight. Please no pushing too hard if you put shoe charms onoff difficultly, or there is no good for shoes either shoe charms. Please deal with them in patience.
---
No questions yet.