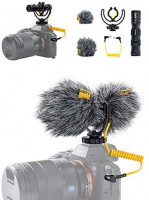 Deity Microphones V-Mic D4 DUO Dual head Cardioid Broadcast on-camera microphone video microphone : Electronics
Deity Microphones V-Mic D4 DUO Dual head Cardioid Broadcast on-camera microphone video microphone : Electronics
We will do a research of manufacturers of this type of product in China, agree on the best price, organize quality control and deliver to your address at the world's lowest price.
---
Dual Cardioid Pickup PatternsThe V-Mic D4 Duo is an innovative dual-head microphone that not only provides the front-end radio function, but also provides the back-end voice-over recording function. The carefully modulated front and rear microphones with different sensitivities can perfectly enter the live sound into the left and right channels, giving you greater flexibility and autonomy in the later stage
Small and Durable, High-ValueThe V-Mic D4 Duo is 93.5mm long, 21mm in diameter, and weighs only 40 grams. Aluminum alloy metal pipe, strong construction effectively shielding external interference. Spray and bake the whole body three times, brush the primer, dot the spots, and UV cure. Craftsmanship creates high-end texture
No Need Charge, Plug and PlayNo external power supply is required, and it can be used on cameras, mobile phones, tablets, and laptop devices through the standard TRS3.5mm cable. It can be plug and play and avoid battery anxiety
New Input Interface to Achieve Stereo EffectIt is additionally equipped with a 3.5mm input interface, which can be connected to other wired or wireless recording equipment, breaking through the sound quality and distance limitations, achieving stereo effects and restoring the real sense of presence
Professional Shock and Noise ReductionEquipped with Rycote shock-absorbing bracket, it provides industry high-standard seismic support for voice recording. Even if it is chasing, running and jumping, it can effectively reduce the shaking caused by noise. Three fixing methods cold shoe, 14, 38, support top-mounted installation, handheld, and multiple play methods to match your different installation needs
Fearure The V-Mic D4 DUO offers a dual-capsule design, with one cardioid capsule focused on the subject in front of the mic and a second aimed at the rear, allowing it to pick up audio from the camera operatorinterviewerjournalist filming the scene. Instead of being forced to shout for the benefit of a microphone, it lets the interviewer speak in a normal tone of voice without sounding muffled and distant, providing improved sound for interviews and voice-overs. The versatile V-Mic D4 DUO also features a 3.5mm Aux input designed to accommodate a lavalier mic or wireless transmitter both available separately. If you have time to mic up your subject with a lav, simply plug it into the jack and flip the stereo switch that bypasses the rear mic on the D4. The lav is recorded on the cameras right channel, while the front capsule of the D4 DUO is routed to the left. With the audio from each mic on separate tracks, you can dial in the exact blend you want of the close-miked sound from the lav and the ambience of the on-camera mic in post-production. No longer do you need to carry around bulky camera mixers or hard-to-find stereo splitter cables to achieve similar results. Weighing only 1.4 oz, the V-Mic D4 DUO adds quality audio to your camera rig without weighing it down. Included are two faux-fur windscreens to reduce wind noise when shooting outdoor, a Rycote Lyre shockmount to reduce vibrations and handling noise, and a coiled 3.5mm output cable. Do More, Carry Less Dual cardioid pickup patterns for directional sound capture in front and behind the camera Low-noise circuitry for high-quality speech and dialogs Aux input for lavaliers microphones or wireless receivers Powered via plug-in power from the camera Compact and lightweight at 1.4 ozRycote Lyre shockmount with camera shoemount14-20 and 38-16 threaded mounting options2 x faux-fur windscreens
---
No questions yet.