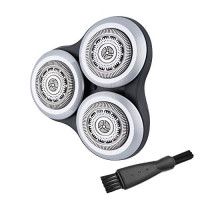 Desfaidy RQ12 PRO RQ10 Shaver Head Replacement Compatible with Philips Norelco Series 8000 Arcitec SensoTouch 3D RQ12 RQ10 RQ11 SH50 Series 9000 Arcitec: Beauty
Desfaidy RQ12 PRO RQ10 Shaver Head Replacement Compatible with Philips Norelco Series 8000 Arcitec SensoTouch 3D RQ12 RQ10 RQ11 SH50 Series 9000 Arcitec: Beauty
We will find product manufacturer, agree on the best price, organize quality control and deliver to your address at the world's lowest price.
---
Compatible with RQ12 and RQ126272 Arcitec 1050X, 1060X Sensotouch 3D Series 8000 1250x, 1255x, 1260x, 1280x RQ10xx Series Arcitec, RQ12xx Series SensoTouch 3D Norelco Razors 8000 Series 1250X, 1260X, 1280X, 1290X.
Sharper and more efficientThe 360 floating head of the tripod can be used to fit the facial curve and easily deal with different facial angles.
Protects skin from allergies We use skin - friendly materials and processes to make cutter heads and knife nets to avoid skin sensitivity.
Economical and practicalThe tool head is wear-resistant, so it is not necessary to change the tool head frequently.After installation, place a tiny drop of baby oil on each screen and allow razor to run for 10 seconds. This will help the razor run more smoothly
Easy replacement Easy to operate design, even novice can replace the tool in one minute.
In two years, your razor head will remove 9 million facial hairs. Why not replace our razor head and reactivate the razor Compatible with All SH90 models 9000 and 800 Series S9090 S9031 S9111 S9151 S9152 S9181 S9311 S9321 S9511 S9512 S9522 S9531 S9551 S9711 S9712 S9721 S9731 S9733 S9751 S9781 S9800 S9850 S9988 All RQ12 models 1250cc, 1250X, 1250XCC, 1255X, 1260cc, 1260X, 1280cc, 1280X, 1280XCC, 1285cc, 1290cc, 1290X, 1295cc, 1250, 1251, 1252, 1253, 1254, 1260, 1261, 1262, 1265, 1275, 1280, 1285, 1290, 1295, All RQ10 RQ11 models RQ1052, RQ1053, RQ1059, RQ1060, RQ1061, RQ1062, RQ1075, RQ1076, RQ1077, RQ1085, RQ1087, RQ1090, RQ1095RQ1150 RQ1151 RQ1160 RQ1180 Sharper and quicker Upper lip, chin, cheeks, gills, throat...Beards are everywhere and grow in different directions.Complex facial contours and the direction of beard growth require a more flexible razor to cope. Our razors have a 360 floating veneer system with 3D designed to easily face different corners of the face without leaving a mark. Comfortable shaving experience Our products are 100 waterproof and highly efficient with no hair sticks,giving you a comfortable shaving experience. Affordable and durable The ever-sharp blade price fits in any pocket and looks like a new one every time it is used. Easy to remove and wash With separate fuselage and waterproof design, our cutter head can be disassembled at will, and the machine can be washed directly to solve the disassembly and cleaning problems. Note In order to avoid excessive accumulation of beards, please sweep the blade after use to avoid affecting the normal operation of it. We suggest that replace the shaving heads every 12 months to achieve the best shaving
---
No questions yet.