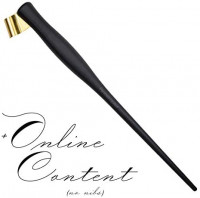 Dual Plastic Calligraphy Oblique Nib Pen Holder and Stub Italic Dip Pen with Removable Multi-Fit Brass Flange with Online Content by Penmen United
Dual Plastic Calligraphy Oblique Nib Pen Holder and Stub Italic Dip Pen with Removable Multi-Fit Brass Flange with Online Content by Penmen United
We will find product manufacturer, agree on the best price, organize quality control and deliver to your address at the world's lowest price.
---
Online calligraphy content-This product contains links to visit our online calligraphy related content. So far, we have created a video that can help you adjust the flange if the pen tip is not suitable. We will add more videos in the future and will openly consider any suggestions or requirements.
Multi-Function Flange-Our brass multi-function flange is suitable for most tip pens Gillott, Brause, Hunt and Comic G nibs Nikko G, Tachikawa G, ZebraG. As a straight pen stand, it may fit the Speedball wide nib, Mitchell Roundhand square nib, Tachikawa C nib, ribbon wide nib and Brause C nib. For a detailed and updated list of nibs, please see the product detailed instructions. Please note that this product does not contain a nib.
Removable flange-with removable brass flange, you can remove the flange, open it slightly and insert the required pen tip, making it suitable for many pointed pen tips. In this way, the flange can fit about 90 nibs of the right size on the market. Note Please note that over time, this may bend the flange to fit only the nib, which may affect the versatility of the flange.
Switchable dual use-This dual-purpose calligraphy holder can accommodate pointed nibs and wide-edged or italic nibs. For edged nibs, please remove the brass flange and use it as a straight retainer. When used as a straight retainer, it can use most pointed nibs including wide-speed nibs, Mitchell rounded square nibs Tachikawa C nib, glue band nib and Brause C nib.
Important quality inspections are simple to return-check and adjust each flange to ensure and maximize the number of nibs that the flange can hold. If the pen tip listed in the product description is not suitable, it can be returned free of charge by marking the cause as "defective" so that we can re-evaluate the flange. Please note that all Penmen United holders are equipped with plastic bags for easy return.
---
No questions yet.