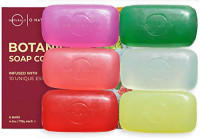 O Naturals Transparent Bar Soap Collection. 6-Pack Botanical Natural Soap Gift Box. Vegan, Vegetable Glycerin, Cleansing Moisturizing Essential Oils Bar Soap, for Men and Women 4.2oz : Beauty
O Naturals Transparent Bar Soap Collection. 6-Pack Botanical Natural Soap Gift Box. Vegan, Vegetable Glycerin, Cleansing Moisturizing Essential Oils Bar Soap, for Men and Women 4.2oz : Beauty
We will find product manufacturer, agree on the best price, organize quality control and deliver to your address at the world's lowest price.
---
AROMATHERAPY GOODNESS Aromatherapy essential oils take the cleansing experience to a new level with therapeutic smells and feelings to nurture the bodys senses in this clear glycerin soap bar set.
100 VEGAN, Made Natural Ingredients, Sulfate free, Paraben free, good for all skin types, no animal testing. Made in the UK.
A TRUE GLYCERIN SOAP These transparent glycerin soap bars have all the benefits that a natural, clear glycerin base soap brings to the skin.
DEEPLY CLEANSING Glycerin soap will remove the excess oil from the skin to unclog pores to treat acne, eczema, and psoriasis without drying out the skin and is great for combination skin.
ULTRA MOISTURIZING These clear transparent glycerin soap bars attract moisture and draw it deep into your skin to keep it hydrated.
Cleanse your body, mind, soul with O Naturals Botanical Soap Collection. This Botanical Soap Collection features six incredible natural soap bars that bring the cleansing and moisturizing benefits of true transparent glycerin soap pair them with aromatherapy essential oils. This 99.9 natural soap collection features true glycerin soap so it is incredibly cleansing.A true transparent 100 Vegan Glycerin soap is absolutely amazing for the skin. As a cleanser, Glycerin soap will remove the excess oil from the skin without drying out the skin is great for combination skin. Additionally, it attracts moisture into the skin locks it in.Our Botanical Soap Collection features an array of aromatherapy essential oils. Each combination has a unique design purpose which creates a home-spa experience Clove Bergamot Soap Clove Oil invigorates your mood. Bergamot naturally invigorates lifts your mood by livening the skin. Echinacea Grapefruit Soap. Echinacea Oil heals balances you. Grapefruit Oil is used to uplift your mood balance skin. Lavender Bitter Orange Soap Lavender Oil is incredibly soothing. Bitter Orange Oil is known to be calming relaxing. Lemon Calendula Soap Lemon Oil is cleansing makes you feel fresh alert. Calendula Oil is incredibly healing good for sensitive skin. Palmarose Rosehip Soap Rosehip Oil balances both your skin your mind. Palmarose Oil helps dry, oily combination skin. Patchouli Cedarwood Soap spices up your shower or bath Embrace the sensual stimulation of Patchouli Oil along with the inviting sense of Cedarwood which relieves stress. All this in an incredible vegan natural soap set is sure to take your bathing experience up to the next level of clean. So try O Naturals Botanical Soap Collection today Your skin will thank you for it.
---
No questions yet.