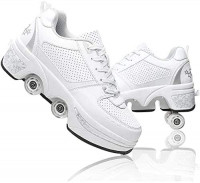 Roller Skates for Women, Shoes with Wheels for Girls, Kick Roller Shoes for Adults, Roller Skates for Boys, Moon Shoes for Kids, Skating Shoes for Men 2 in 1 Outdoor Recreation Skates : Sports & Outdoors
Roller Skates for Women, Shoes with Wheels for Girls, Kick Roller Shoes for Adults, Roller Skates for Boys, Moon Shoes for Kids, Skating Shoes for Men 2 in 1 Outdoor Recreation Skates : Sports & Outdoors
We will find product manufacturer, agree on the best price, organize quality control and deliver to your address at the world's lowest price.
---
Deformation Shoes-different from other skates. Hidden wheels can be like sports shoes, so they are not only roller skates, but also parkour shoes.
High-Quality Materials-use comfortable and breathable upper and lining, wear-resistant soles, PU Roller bearing , Roller bearing capacity 85KG, add lubricant before use to reduce friction and make it easier to slide.
Fashion Trend-shoes with wheels are easy to learn and suitable for beginners Sports and outdoor,They are great gifts for adults, children, boys, girls, women, youth skatingpartydisco ballbirthdayChristmas.
2 in 1 Roller Skates Brake-The brake technology of roller skates is universal, you can use T brake 8-shaped brake.
Size Selection-kickroller shoes size is standard size, it is recommended to choose according to your actual situation.
Transformable roller skates, suitable for kids who like sports... This is an entry-level skate for beginners and casual runners. Do not hesitate It will definitely exceed your expectations Name kick rollerskate shoes Parkour shoes Shoes with wheels Outer material synthetic Inside material grid Outsole Rubber Scene suitable for skatingpartydiscobirthday Applicable crowd adults, children, boys, girls, women, youth Packing list 1skates, 1roller, 1bearing, 1wrench Correct opening and closing of the wheels 1. Open the wheels There are invisible buttons on the back of the shoes. Adjust the arrow up position of the buttons. Press the buttons hard to open the wheels. 2. The wheels are closed. There is an invisible button at the back of the shoe. Adjust the arrow up position of the button, press the button firmly, and the wheel closes.Safety For safety reasons, children must be accompanied by an adult when using roller skates.If you have any questions, please contact our customer service. We will answer your questions within 24 hours. Foot length comparison table 3.5205mm 4210mm 4.5215 5220mm 5.5225mm 6230mm 6.5235mm 7240mm 7.5245mm 8250mm 8.5255mm 9260mm 9.5265mm 10270mmSuggestion To ensure your feet are comfortable, please measure the length of your feet, and then use the size chart to select the correct size.Hope This product can make your life happier
---
No questions yet.