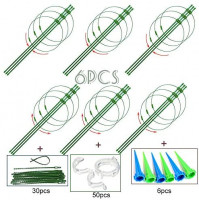 6 Pack Plant Support Cages Metal with 3 Adjustable Rings for Potted Plants, Garden, Peonies, Peppers, Upgraded 18" Trellis with 6 Self Watering Spikes, 50 Plant Clips and 30 Plant Twist Ties : Garden & Outdoor
6 Pack Plant Support Cages Metal with 3 Adjustable Rings for Potted Plants, Garden, Peonies, Peppers, Upgraded 18" Trellis with 6 Self Watering Spikes, 50 Plant Clips and 30 Plant Twist Ties : Garden & Outdoor
We will do a research of manufacturers of this type of product in China, agree on the best price, organize quality control and deliver to your address at the world's lowest price.
---
Upgraded 3 Adjustable Rings3 adjustable rings, you can adjust the size of the rings as the plant grows to make the plant grow better. Easy as pie to put to work, just pop open the loops, all steel clasps are movable and the position of hoops is adjustable.
Grow Uprightly HealthilyDesigned specifically for vertical climbing, plenty of open areas for easy pruning and picking, continuous support throughout plants growth. Perfect for climbing plants, potted plants, peppers, pots.
Sturdy Durable ReusableInside stake includes durable steel core. Outside stake is covered with a heavy-duty plastic coating. The rings are also made of steel, which is better than those plastic ones.
Perfect home gardening equipmentWhen you are on a business trip or dont have time to water the plants every day, you can use self watering spikes watering your flowers and plants. Offering secure support for plant stems by plant clips and plant twist ties. Give you the best home gardening experience.
Package Includes6 x sturdy steel plant support cages, 6 x self watering spikes, 50 x plant clips, 30 x plant twist ties. The plant trellis reach up to 18 inches. Perfect for DIY home gardening.
Multi-use plant cages support Used for the support or traction of plants and flowers such as morning glory, peonies, peppers, cucumber, etc. At the same time, the plant type of the leaf plants can be made more attractive. Tips on self watering spikes installation Using a standard water bottle with a 1.1 inch diameter opening. You can drill of the hole end of tip or side as needed for water distribution. You can put plant fertilizer mixed into water to make plants grow fast. Tips on plant clips and plant twist ties It can be used as a safe support for plant stems or as a vine clip to hold climbing plants, tomatoes, cucumbers, beans, pumpkins, orchids, peppers, so as to prevent them from falling or breaking and make plants grow better. Package Includes 6 x sturdy steel plant support cages 18inch long, 3 rings size 5.56.37.1. 6 x self watering spikes. 5.3 X 1.1 inch 50 x plant clips 1.2inch 30 x plant twist ties.6.7inch long
---
No questions yet.