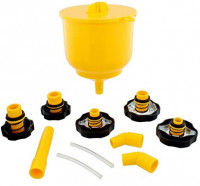 ABN Coolant Funnel Kit Radiator Spill Free Funnel Auto Coolant Flush Kit No Spill Funnel Radiator Funnel Fill Kit: Automotive
ABN Coolant Funnel Kit Radiator Spill Free Funnel Auto Coolant Flush Kit No Spill Funnel Radiator Funnel Fill Kit: Automotive
We will find product manufacturer, agree on the best price, organize quality control and deliver to your address at the world's lowest price.
---
Ensure fit by entering your model number.
Perform the test Refill Liquid ABN Cooling System Refill Kit Coolant Drain Funnel Radiator Rinse Kit can prevent the belt from squeaking and overflowing when replacing radiator coolant, flushing the system, vacuum filling or hose replacement, connect to On the radiator and seals to achieve hands-free work, so that you can fill the fluid above the radiator height to allow the coolant to expand to remove trapped air cavities or cylinder head gasket combustion leakage bubbles, otherwise it may cause cooling system errors and Heater problem
The antifreeze funnel kit for your vehicle can be used for any vehicle that is filled with a radiator instead of an expansion tank filled with a straight extension and a 45-degree elbow that can access the lid located under the shroud or in the fender well. Use in hard-to-reach areas, and can be combined to be placed on the radiator cover at an angle
The final build is 6.75 inches x 8.25 inches 17.1cm x 21cm, the outer diameter is 0.75 inches 1.9cm, the outer diameter coolant filling funnel tip fits firmly with the adapters of various sizes supplied. There is no measurement mark on the coolant-free funnel. It can hold up to 70 ounces and 2.1 liters. It is made of opaque yellow hard plastic parts. Three of every five cap adapters include a steel ring to fix the adapter in place.
Package Content Coolant Vacuum Refill Kit includes 1 radiator perforated funnel with removable lid to keep car radiator funnel clean and other items organized, 5 caps, 3 adapters, two 45 degree elbows , A 5 inch long and 12.7 cm long straight and 2 transparent hoses extra 4 inches x 6 mm outer diameter 4 mm inner diameter
Easy to use Insert the appropriate adapter and cover into the radiator, put the funnel into the adapter, add coolant, and allow the trapped air to escape through the funnel while the engine is running, squeeze the radiator hose, insert the plug, insert The remaining fluid is transferred to the container or overflow container. If the funnel cover is used to cool the fluid to ambient temperature, insert the funnel plug into the neck of the funnel, remove the funnel and fluid, and drain the captured fluid into the container. Recap the air now. Lid on the radiator
---
No questions yet.