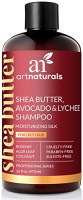 ArtNaturals Shea-Butter Avocado and Lychee Shampoo – (16 Fl Oz / 473ml) – Moisturizing Silk – Nourishing For Dry and Damaged Hair – Sulfate-Free and Cruelty-Free – Coconut, Aloe Vera and Rosehip : Beauty
ArtNaturals Shea-Butter Avocado and Lychee Shampoo – (16 Fl Oz / 473ml) – Moisturizing Silk – Nourishing For Dry and Damaged Hair – Sulfate-Free and Cruelty-Free – Coconut, Aloe Vera and Rosehip : Beauty
We will do a research of manufacturers of this type of product in China, agree on the best price, organize quality control and deliver to your address at the world's lowest price.
---
MOISTURIZING HYDRATING ArtNaturals shea butter shampoo helps nourish and hydrate dry strands. Getting your hair back to looking healthy. Give your hair a healthy looking glow and put an end to split ends.
RESTORES The high fatty acid in shea butter makes it especially good for protecting your hair against breakage.The antiinflammatory properties might also help reduce redness and scalp irritation.
PROTECTS From straight hair to curly hair, thick hair to thin hair. Our Shea Butter Set is gentle enough for fine hair fierce enough for thick or coarse hair, it can help protect your hair from split ends, sun damage and more.
SOFTENING SMOOTHING ArtNaturals Shea Butter Shampoo and Conditioner set is blended with creamy shea butter, avocado and lychee oils. This sulfate free shampoo helps leave your hair feeling soft and smooth.
SATISFACTION GUARANTEED ArtNaturals offers a 100 satisfaction guaranteed or your money back. Try it risk free with no questions asked and top customer service. You have nothing to lose and your health to gain.
---
No questions yet.