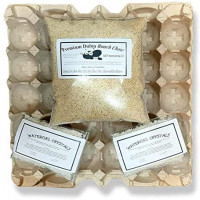 Cricket & Dubia Roach Colony Starter Kit - Includes 6 Egg Flats, Premium Dubia Roach Chow Cricket Food (1 lb), 1-(2 oz packet) Water Gel Granules (2 oz Total) | Raise Dubia Roaches Crickets : Pet Supplies
Cricket & Dubia Roach Colony Starter Kit - Includes 6 Egg Flats, Premium Dubia Roach Chow Cricket Food (1 lb), 1-(2 oz packet) Water Gel Granules (2 oz Total) | Raise Dubia Roaches Crickets : Pet Supplies
We will do a research of manufacturers of this type of product in China, agree on the best price, organize quality control and deliver to your address at the world's lowest price.
---
EVERYTHING YOU NEED to raise crickets to feed frogs, reptiles, or other pets. Starting a dubia roach colony for your bearded dragon or leopard gecko Use our starter kit to have fast-food snacks ready for your pets habitats
DUBIA ROACH STARTER KIT includes everything you need to get your colony going. Put in an enclosure and just add roaches or crickets. Includes 6 egg flats, 1 pound of Premium Roach Chow Cricket Food, 1- 2 oz Packet of water gel granules
EGG FLATS 6 12x12 included can be placed inside a plastic storage container or aquarium to create the perfect roach habitat. Egg flats can be stood up or laid flat, alternate or flip each flat to give roaches or crickets plenty of room. Disposable for easy clean up
ROACH CHOW 1 pound 16 ounces of High Protein Chow with Oats that crickets will love too Great for the roaches dry diet or for the cricket hatchery
WATER CRYSTALS We include 1-2 oz Packet of water gel granules. Each ounce makes 1 gallon of gel. Just add water. Your kit includes enough to make 2 gallons of gel to provide moisture for roaches, crickets, or other insects without the risk of drowning them
---
No questions yet.