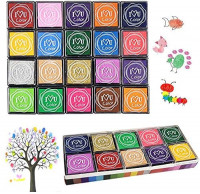 Finger Ink Pads for Kids, 20 Colors Ink Stamp Pads, Washable Craft Stamp Pad DIY Color for Rubber Stamps, Paper, Scrapbooking, Wood Fabric, Best DIY Gift for Kids – Gtlzlz: Arts, Crafts & Sewing
Finger Ink Pads for Kids, 20 Colors Ink Stamp Pads, Washable Craft Stamp Pad DIY Color for Rubber Stamps, Paper, Scrapbooking, Wood Fabric, Best DIY Gift for Kids – Gtlzlz: Arts, Crafts & Sewing
We will do a research of manufacturers of this type of product in China, agree on the best price, organize quality control and deliver to your address at the world's lowest price.
---
Ink pad applicable to fabric, wood, paper, scrapbooking card-making, posters, notepads, journals, these are excellent for many different kinds of projects. And the ink pads waterproof after the ink is dry on paper.
The kid stamp ink pad with 20 different colors, and each size is 1.57 x 1.57 x 0.43. Various colors let children use their imagination, creating a great finger painting.
Safe Easy to Clean All these stamp ink made from quality ink material, non-toxic, non-odor and water-soluble. You can easily clean with warm and soap water. It can be easily cleaned from hands, face and arms without any residue. No more worry about the color stains on clothes.
Convenient Storage Each pad has its own little storage case made out of sturdy plastic. Not only does this keep the ink safely stored but the cases stack very neatly to keep you play or art work area neat and tidy.
This is a perfect DIY gift for children. They will be surprised when they receive this gift.
Specification Package include 20 pcs. Product size 1.57 x 1.57 x 0.43 4 x4 x1.2cm. Color 20 colors. NOTE If you think it will be relatively dry, I suggest dropping a small amount of water into it, and it can be about 2 drops. Product features New high quality ink pad is great home and class DIY decoration. Well made, bright color made your DIY projects more beautiful. The ink pads is Water-Soluble that you can clean up easily. Release your kids talent Get the kids creating works of art. Finger Painting Can Cultivate Childrens Observation, Imagination, Creativity, Freedom to Express Nature.
---
No questions yet.