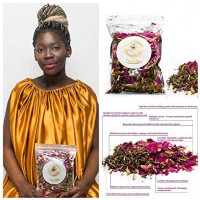 Goddess Blend Yoni steam herbs for cleansing and tightening Yoni Steam Vaginal Steam Holistic V Steam Yoni Detox Calming Therapy Multi Herb Concentrated Blend 3.8oz: Health & Personal Care
Goddess Blend Yoni steam herbs for cleansing and tightening Yoni Steam Vaginal Steam Holistic V Steam Yoni Detox Calming Therapy Multi Herb Concentrated Blend 3.8oz: Health & Personal Care
We will find product manufacturer, agree on the best price, organize quality control and deliver to your address at the world's lowest price.
---
More Comfortable Menstrual Cycle and Increased Fertility.Plantain,Rosemary,Yarrow Leaf ,Calendula Flower ,Red Rose Petal ,Mugwort , Red Rasperry ,Motherwort .
A yoni steam is an ancient practice that provides gentle and effective support for womens wellness. Also known as vaginal steam, vagi steam, v-steam, chai yok or bajo
Use this natural remedy to reduce symptoms of PMS, regulate your cycle, support fertility and during postpartum, maintain healthy odor, relax, detoxify, and more Treat yourself to this simple, enjoyable and effective herbal remedy from the comfort of home try our convenient Yoni Steam Seat.
v Reduces and get rid of Fishy smell or odor
Reduces and get rid of Fishy smell or odor
DISCOVER AN ANCIENT SECRET TO WOMENS WELLNESS. A powerful ancient remedy that has been used for centuries by women worldwide, yoni steaming provides support for womens physical and emotional wellbeing. Also known as vaginal steaming or v-steaming, yoni steaming is a holistic health practice in which a woman allows the warmth of herbal steam to gently permeate her vagina. This gentle treatment provides effective support for the female reproductive system, and invites reconnection with the powerful, creative energy of a womans center. The Vibrant Souls Devi Steam is a carefully crafted blend of yoni steaming herbs that includes the highest quality, aromatic, toning and healing herbs available. Unlock The Secret To Your Health With The Vibrant Souls Devi Steam. Improve Your Cycle Cleanse and revitalize with herbal steam. With regular yoni steaming, youll support your natural feminine cycle to do its best. Many women experience reduced cramps, healthier flow, more regular menstruation and improved fertility. Relax and Detoxify Indulge in the blissful self-care that you deserve. Youll enjoy the delightful sensation of the steam as it gently encourages you to release both physical and emotional toxins. Feel relaxed and refreshed any time you desire. Support Your Womb Rejuvenate with deeply nourishing herbs. Yoni steaming is traditionally used to support, tone and cleanse the uterus after birth, is thought to reduce uterine abnormalities, and can also help reduce symptoms of menopause. All herbs are Certified Organic and Fair Trade. Grown sustainably around the world, our herbs are hand blended in the clean mountain air of Colorado, then packed in a resealable pouch to maintain freshness between each steam. We are members of 1 for the Planet, ensuring that 1 of your purchase supports environmental organizations. For best results, use in combination with our Yoni Steam Seat . 3.5oz 3-5 steams Steam 1-3 times per month.Steam between 20-30 minutes.
---
No questions yet.