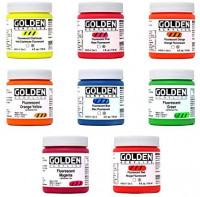 Golden Fluorescent Acrylic Colors Set | 4 Oz Heavy Body Acrylic Paint | Complete Set of 8 Fluorescent Colors
Golden Fluorescent Acrylic Colors Set | 4 Oz Heavy Body Acrylic Paint | Complete Set of 8 Fluorescent Colors
We will find product manufacturer, agree on the best price, organize quality control and deliver to your address at the world's lowest price.
---
Golden Fluorescent Acrylic Colors Set includes 8 eight 4 oz jars, 1 of each of the following colors Blue, Chartreuse, Green, Magenta, Orange, Orange-Yellow, Pink and Red
Golden Heavy Body Acrylics are known to have a smooth, buttery consistency and render excellent permanency and lightfastness
Fluorescent Acrylic Colors are intense, brilliant colors, produced from dyes surrounded by a polymer coating
No fillers, extenders, opacifiers, toners or dyes added
Each color is formulated depending on the nature of the pigment. They are not lightfast
PRODUCT DESCRIPTIONThis set contains 8 4 oz jars of Golden Fluorescent Colors Paints, 1 of each of the following colors Blue, Chartreuse, Green, Magenta, Orange, Orange-Yellow, Pink and RedGolden Fluorescent Colors are waterborne acrylic paints produced from polymer coated dyes, which offer incredibly bright colors. It is important for professional artists to realize that Fluorescent pigments are NOT lightfast.PRODUCT APPLICATIONChoosing Underlying ColorsGolden Fluorescent Acrylics have been formulated for maximum intensity of color. Like other Golden products, Golden Fluorescents have a high pigment load. However, because the fluorescent pigments are extremely transparent, they should be applied over light colors of similar hue to achieve opacity. The greatest intensity of color can be achieved by working over a bright white surface, such as Golden White Gesso or Heavy Body Titanium White.Blending with Other Fluorescent ColorsGolden Fluorescent Colors should be used by themselves to achieve the maximum vibrancy. Even blending Fluorescent colors together will begin to diminish the brightness. Always test blends before use in artwork.Blending with Other Acrylic PaintsOther non-fluorescent acrylic colors may be blended with these fluorescents, but doing so will tend to decrease the fluorescent color intensity dramatically. Even very small additions of a Heavy Body or Fluid Acrylic can substantially dull the color.Blending With Gels MediumsBlending with gels and mediums should not negatively effect the brightness of the Fluorescent Colors. Golden Gels and Mediums are available in a large assortment of viscosities and offer many unique attributes. Reducing the Fluorescents with Golden Airbrush Medium will yield excellent sprayability.Blends with Golden Matte Products, such as Matte Medium or Regular Gel Matte may diminish the brightness of the pig
---
No questions yet.