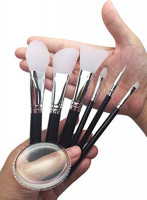 JJMG 7pcs Clear Silicone Makeup Brush Applicator Sponge Perfect for Eye Blush Lips BB CC Cream Foundation Concealer Blending Air Cushion Cosmetics Blender (Set of 7 Silicone Brush & Silisponge): Beauty
JJMG 7pcs Clear Silicone Makeup Brush Applicator Sponge Perfect for Eye Blush Lips BB CC Cream Foundation Concealer Blending Air Cushion Cosmetics Blender (Set of 7 Silicone Brush & Silisponge): Beauty
We will find product manufacturer, agree on the best price, organize quality control and deliver to your address at the world's lowest price.
---
EASY APPLICATION COME WITH 3 SHAPES- Pink Leaf shape, Round Shape for replacing Air Sponge Applicator, Triangle Shape for Contouring. The smooth soft silicone surface is the perfect applicator for BB Cream, CC Cream, Air Cushion, foundation, blush, highlighter and concealer. Come in a set of 3 silicon sponges.
NO MORE WASTE - Unlike traditional makeup application sponge that absorb over 50 of your makeup that went to waste, this new silicone sponge will not eat your makeup. Saves money in your pocket
EASY CLEAN UP, TRAVEL FRIENDLY- Simply use soap and water to Clean your silicone makeup sponge. When you are traveling, just use a wet or dry tissue towel to clean the silicone sponge temporarily so you can wash it later when you get home.
CLEAN HANDS FINGERS -You will never have to worry about smudging left-over makeup on your brand name purse or clothing ever again. The silicone sponge will prevent the makeup to fill the creases of your fingers.
SAFE GERM FREE - These sponges are made of High Quality Silicone. A Traditional sponge is the breeding ground for bacteria and Germs. Can you imagine how dirty a traditional sponge is with all the leftover makeup
Are you losing too much make up on brushes and sponges Heres the breakthrough of an old-beauty problem. Often, you lose much make up before applying it on your skin. This new cosmetic tool will put an end to makeup waste and it blends better than the regular make up sponge. An amazing product made of high quality silicone perfect for those who love make-up and likes to wear it every day . This Silicone Beauty Applicator that looks like a stray eyeglasses or a breast cutlet. Using this new soft cosmetic tool saves you a lot of money because it is not absorbent like a regular sponge applicator you require half the amount of make-up youd normally use. While sponge applicators soak up large amount of makeup over 50 during application, the clear Make up applicator silicone sponge perfectly applies and blends your CC Cream, BB Cream, Air Cushion foundation, blush, highlighter, and concealer without absorbing one drop It wont waste makeup like your traditional makeup sponge because of its slippery exterior it isnt porous. It will just blend away. This brilliant silicone sponge effectively applies a range of cosmetics from foundation liquids to pressed powder easily. No fear if you are in need of contouring though. Just simply apply silisponges, no need to wet the sponge. Getting gorgeous has never been so easy but this tool provides flawless coverage. HOW TO USE Take the littlest amount of creamliquid product and go in circular motions or back and forth to spread, until it stop spreading further. Tap repeatedly to blend and settle, pay attention to edges jawlines, hairlines, around the eyes. Hold the long sides and fold to create a point to do detailing. Build coverage as needed. 50 Less Foundation Product Usage.
---
No questions yet.