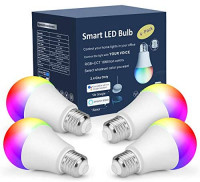 OHLUX Smart WiFi LED Light Bulbs Compatible with Alexa and Google Home (No Hub Required), RGBCW Multi-Color, Warm to Cool White Dimmable, 60W Equivalent, 7W E26 A19 Color Changing Bulb-4PACK
OHLUX Smart WiFi LED Light Bulbs Compatible with Alexa and Google Home (No Hub Required), RGBCW Multi-Color, Warm to Cool White Dimmable, 60W Equivalent, 7W E26 A19 Color Changing Bulb-4PACK
We will do a research of manufacturers of this type of product in China, agree on the best price, organize quality control and deliver to your address at the world's lowest price.
---
Voice ControlEasy voice control of all 4pack A19 shape E26 E27 Base Smart bulb via integration with Alexa Echo and Google Assistant this includes turn onoff, brightnesstemperature and scenes. Ex, you can say, Alexa set the bedroom to warm.No HubBridge Required
APP And Remote ControlKeep connecting WiFi smart light bulb with your home network only supports 2.4GHz Wifi, you can remotely control smart light bulb on your smartphone when you leave home or travel
Timing And Group Control Never come home to a dark house - by using light schedules on the Smart Life app and be greeted with warm light. The timer function enables smart led light bulb power on and off automatically, Time Setting for Sunset sunriseGroup control function allows you to control more than one smart light bulb at the same time for scene setting
RGBCW Multi-Color And Dimmable Brightness RGB Cool white Warm white smart bulb Choose What Color You Want with 16 million colors and the brightness of every color is dimmable The light brightness can be fixed percentages from 1 - 100 output. No Droning-No Flashing
90 Days Free Turn And 1000 days Tech Support7W 600lm smart bulb A19 shape with E26 base, equivalent to 40-60W traditional incandescent bulbs. Saves up to 90 energy, Last longer and energy saver Approximately 50,000 working hours.if you encounter any problem or need support, please feel free to contact us on directly.
OHLUX Smart WiFi Light Bulb A19shape E26base 4 Pack How to connect with smart life App Download the Smart Life app, register an account and login Click in the upper right corner - All devices - Lighting Devices turn on the switch 3 times on-off-on-off-on until its flashed quickly Click confirm light blinks rapidly and then input the correct WiFi password 2.4Ghz WiFi Within 30 second, it will be connectedWork with 5G WiFi Remembering all routers today work in mixed band there you have to disable the 5ghz band and configure only with the 2.4ghz enabled after everything is working, after setup you can active 5ghz againHow to connect with Alexa EchoStep A Tap SkillsGames in the hamburger menu, then search Smart Life. Select Smart Life and tap ENABLE to enable the Skill.Step B Type in your Smart Life account and password, dont forget to select the countryregion where your account belongs to. Then tap Link NowStep C After the skill binding is successful, Click DISCOVER DEVICES then Discovered devices will be shown in the list.Note every time you change the devices name on Smart Life app, Echo must re-discover before you control them.How to connect with Google HomeStep A On the homepage of Google Home app, click the button in the lower right corner, select MORE SETTING, select Home CONTROL under the list of ASSISTANT, and then click the plus sign in the lower right cornerStep B Find Smart Life in the list. In the new window, select your Smart Life accounts region, type your Smart Life account and password, then tap Link NowNote pls use one Google account to control Home Control Action. If you sign in Google Home app with several Google accounts, only the first Google account you signed in can be used for Home Control
---
No questions yet.