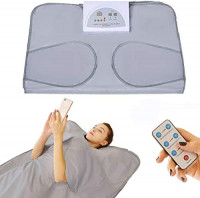 PinJaze Infrared Sauna Blanket, 71'' (L)×32'' (W) 2-Zone Digital Control Personal Sauna, Sauna Blanket for Weight Loss and Detox at Home, 2020 Upgraded Version 110V US Plug(with Button Battery)(Silver) : Garden & Outdoor
PinJaze Infrared Sauna Blanket, 71'' (L)×32'' (W) 2-Zone Digital Control Personal Sauna, Sauna Blanket for Weight Loss and Detox at Home, 2020 Upgraded Version 110V US Plug(with Button Battery)(Silver) : Garden & Outdoor
We will do a research of manufacturers of this type of product in China, agree on the best price, organize quality control and deliver to your address at the world's lowest price.
---
ENSURE HEALTH BENEFITS AND SAVE YOUR MONEYAre you still troubled by joint pain, sleeplessness, and obesity It doesnt matterown itinfrared sauna blanket to help you relieve pain, weight loss, detox, relax musclesPersonal sauna blanket, no need to sit you can sweat all over when lying it, no longer need to go to the expensive beauty salonPatients of rehabilitation therapy are the first choice
2020 STRETCH OUT HAND DESIGNUpgraded stretch out hand design, you can watch mobile phones, play games, read books, etc. while enjoying the infrared sauna sweating lying down to the weight loss, it is a great thing and worth trying It is Christmas, Mothers Day, Thanksgiving Day for mothers, a great gift for friends and familyNote When the remote controller is in use, it can be powered on and work only when the plastic film on the tail is opened
DURABLE MATERIAL AND SUITABLE SIZEOutside Oxford cloth, inside PVC waterproof material is easy to clean 71L 32W inches180 80 cm, Note This product is only suitable for people under 175cm height, please purchase with caution NOTE Please do not fold it when in use, and fold it for storage after the blanket has cooled. Because folding during use may cause local high temperature of the heating wire
SIMPLE OPERATION 2-zone control box will automatically cut off the power to stop heating when the temperature is too highone-button remote control switch with button battery1. Turn on the sauna blanket 2. Plugin the power 3. Use remote control or unit to control temperature and time 4. Lie down and enjoy the sweatTip It is recommended to adjust the temperature to 65 c-70 C during use, and then adjust the temperature according to your own physical condition
ELLENT SERVICEIf you have any dissatisfaction, we will immediately refund you unconditionally including 1 blanket 1 smart remote control 1 control box 2fuse 1 user manual if you have any questions, please contact us, we will try our best to solve your problem
---
No questions yet.