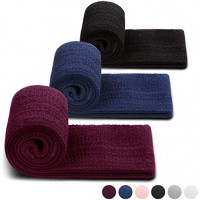 PlusYard Non Slip Fabric Resistance Bands for Legs and Butt, Elastic Hip Workout Bands Resistance for Women/Men, Home Workout Fitness Cloth Circle Band/Booty Band for Stretching at Home(Set 3) : Sports & Outdoors
PlusYard Non Slip Fabric Resistance Bands for Legs and Butt, Elastic Hip Workout Bands Resistance for Women/Men, Home Workout Fitness Cloth Circle Band/Booty Band for Stretching at Home(Set 3) : Sports & Outdoors
We will find product manufacturer, agree on the best price, organize quality control and deliver to your address at the world's lowest price.
---
Non Slip and High ResistantPlusYard Exercise Bands is a high-quality resistant band made of high quality. the resistance band is different from other resistant bands in the market as they with very high resistance that does not reduce its elasticity even after repeated use.
Perfect Sets of 3 sizePlusYard cloth circles loops Bands are easy to use and comes in different sizes and strength levels. It comes in three variations light, medium and heavy. Therefore, you dont have to worry about the band being too stretchy or too hard, different strengths will provide you with more flexibility and more options for your exercise routine, making sure all your workout goals and intensity levels are met
Suitable for Many Exercises- Exercise bands are ideal for assisting in P91x, CrossFit, Yoga, Insanity, Pilates, Hot Yoga, and Beach Body workouts. Our booty band to help you get your perfect body and legs faster. Soft fabric booty bands will NOT slide or roll up during workouts,the best choice for sports and fitness.
Lightweight Portable The best of the resistance band are lightweight and space efficient that you can easily stash them in your suitcase with mesh carrying pouch ,easy to carry anywhere in Travel, Home, Gym, etc, you can make muscles activities in any place.
CREATE A PERFECT BODYThese anti-slip booty bands are made for your body exercise. Whether a perfect peach booty or an excellent base for an hourglass figure, you are now welcomed as long as you stick with it
Ourdesignerscollocationsomeamazingcombinationofcolorsforwomen,andusethebestelasticmaterialtomakefabricresistancebands.
Innergripstripstopreventslipping,Excellentportabilityforon-the-gotraining,Stretchyfabricthatfeelssofttothetouch
,Latex-freeconstruction,idealforsensitiveskin,Threeresistancelevelslight,medium,andhard.
Itcanbeusedasasplendidgiftforyourfriendswholiketofitness.
Itcananti-rollingandanti-sliding,itissuitabletohelpyoubuildtheperfecthourglassbodyandgiveyouthebestcomfort.
Myhipbootybandiswiderandsuitableforavarietyofsports,suchaslegadduction,gluteusmajormusclebridge,squat,legpress,hipjointpush,etc
Weightlifting,lifting,archery,airsquat,sidesquat,hipabductionandadduction,thighcontraction,kickbacks,etc.,forbeginnerstoathletes
Everylevelisagreatchoice.
thefabricnon-slipbandsareagreatchoiceas
Hipthrusterloops
Thightoningbands
Hipmobilitybands
Gluteactivatorbands
Squatbands
Deadliftbands
Physicaltherapybands
Hamstringsbands
---
No questions yet.