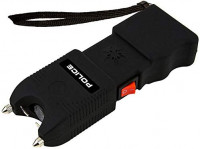 Police TW12 - 58 Bilion Heavy Duty Stun Gun - Rechargeable With Siren Alarm LED Flashlight : Sports & Outdoors
Police TW12 - 58 Bilion Heavy Duty Stun Gun - Rechargeable With Siren Alarm LED Flashlight : Sports & Outdoors
We will find product manufacturer, agree on the best price, organize quality control and deliver to your address at the world's lowest price.
---
NO ADDITIONAL COST You pay 0 for repairs parts, labor and shipping included.
COVERAGE Plan starts on the date of purchase. Drops, spills and cracked screens due to normal use covered for portable products and power surges covered from day one. Malfunctions covered after the manufacturers warranty.
PRODUCT ELIGIBILITY Plans cover products purchased in the last 30 days.
EASY CLAIMS PROCESS File a claim anytime online or by phone. Most claims approved within minutes. We will send you an e-gift card for the purchase price of your covered product. In some cases, we will replace or repair it.
PROFESSIONAL DEFENSE EQUIPMENT Engineered to meet the demands of Police, Military and Security Professionals worldwide but also available to civilians. DELIVERS PAINFUL STOPPING POWER and comes with a Lifetime Warranty.
LOUD SIREN ALARM At the first sign of danger the alarm can be activated to summon help and scare off a potential attacker.
LED FLASHLIGHT Can also help to protect you. When shined in the eyes of an attacker, bright LED can have a temporary blinding effect making it easy for you to immobilize them with the stun gun.
INTERNAL RECHARGEABLE BATTERY Stun gun flashlight simply plugs into a standard wall outlet for a complete recharge. RUBBERIZED COATING Ensures a firm grip.
CONVENIENT SIZE 6.5 x 2 x 1 HOLSTER CASE SAFETY SWITCH makes it perfect for easy everyday carrying and prevents accidental discharges.
Just test firing this unit into the air is often enough to stop an attacker. As the bright electric current pulsates between the test prongs and creates an intimidating electrical sound, an attacker with any sense at all will be stopped in his tracks. If the sight and sound doesnt stop him, a jolt from this stun gun certainly will bring an attacker down When an attacker is touched by the stun gun it will disrupt the message the brain sends to the voluntary muscles. Simply touching an attacker will deliver a high voltage shock causing loss of balance and muscle control, confusion, and disorientation bringing him to his knees and making him incapable of further aggressive activity. Purchase of this product is an agreement by the purchaser to hold the seller harmless of all liabilities and damages. The purchaser assumes all responsibility for the use or misuse of this product. Purchaser must check and abide by all local laws governing the possession and use of stun guns. You also acknowledge that you have determined their legality before purchasing and that you are an adult of at least 18 years of age and under no legal disability. The stun gun must be used only in a lawful manner for self-defense. It is the responsibility of the buyer to ascertain and obey all federal state and local laws in regard to the possession and use of the stun guns. Please note that the stun guns are either illegal or restricted in the following locations Hawaii, Massachusetts, Michigan, Connecticut, New Jersey, Illinois, New York, Rhode Island, Wisconsin, District of Columbia, Annapolis, MD, Baltimore, MD, Chicago, IL, Philadelphia, PA, Baltimore County, MD, Harford County, MD, Crawford County,IA, Virgin Islands.
---
No questions yet.