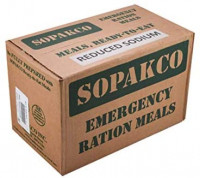 SOPAKCO EMERGENCY MRE Ration Box – Meal Ready to Eat Pack – 16 pcs Fully Cooked Meals for Emergencies – Clear, Strong and Durable Packaging – 5 Years Extended Shelf Life – 6 Menu Varieties/Box: Home Improvement
SOPAKCO EMERGENCY MRE Ration Box – Meal Ready to Eat Pack – 16 pcs Fully Cooked Meals for Emergencies – Clear, Strong and Durable Packaging – 5 Years Extended Shelf Life – 6 Menu Varieties/Box: Home Improvement
We will do a research of manufacturers of this type of product in China, agree on the best price, organize quality control and deliver to your address at the world's lowest price.
---
OPTIMAL SOLUTION No matter if you are an outdoor adventurer or a careful person who always liked to be prepared, the SOPAKCO ready to eat meal pack is the right answer for you It is easy to use, delicious, and lightweight, so you can always have a complete menu ready to go.
WHAT YOU GET Our MRE ration box includes 16 individual meals. In the box you will find entrees such as spaghetti, cheese tortellini in tomato sauce, penne pasta with vegetarian sausage crumble, chili macaroni, vegetarian lasagna, beef ravioli. You will also get toaster pastry, jam, candy, and crackers.
EASY TO STORE These MRE packs have an extended shelf life of 5 years from the packaging date 121919. They do not require refrigeration so you can store them in your pantry or emergency backpack.
SPECIAL BONUS The meal ready to eat comes with a practical Flameless Ration Heater FRH that allows you to prepare and heat the food instantly by simply adding a few drops of water. This allows you to enjoy a complete and tasty meal even in case of emergency.
DURABLE PACKAGING Our camping food packs are come in clear, strong, and durable bags that will not break or leak. They are lightweight and will fit perfectly in your emergency kit or camping backpack.
We put your safety and security first. That is why we employ top-quality ingredients and new manufacturing techniques to design reliable solutions used by people all over the world. Each of our products checks the highest standards of quality and safety, allowing you to always pre prepared for the worst.
The SOPAKCO military emergency case contains 16 pre-cooked meals that you can use in case of emergency or for camping or backpacking. These MRE meals are an easy and safe option to make sure that you always have a nutritious and complete meal on hand, regardless of outdoor scenario.
Why is this product for you
This premium meal box has an extended shelf life of 5 years from packaging date. It requires no refrigeration or special accessories. The box comes with a practical Flameless Ration Heater for you to cook and heat the meal bags quickly and effortlessly.nbsp
Some of the amazing features of this product
nbsp
Be prepared for the worst with the SOPAKCO FEMA emergency ration
---
No questions yet.