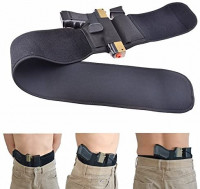 Stealth Belt Multifunction Belly Band Holster Neoprene for Concealed Carry for Women and Men Fits Glock, Sig Sauer, Ruger, Kahr, Beretta, 1911, etc (Black) : Sports & Outdoors
Stealth Belt Multifunction Belly Band Holster Neoprene for Concealed Carry for Women and Men Fits Glock, Sig Sauer, Ruger, Kahr, Beretta, 1911, etc (Black) : Sports & Outdoors
We will find product manufacturer, agree on the best price, organize quality control and deliver to your address at the world's lowest price.
---
TOP ELASTIC STRAPS FOR GUN MAGAZINE Concealed carry holsters design with 2 elastic retention strps, one strap holds tight for full size, compact, subcompact pistols and revolvers. Another specifically for magazine pocket to keep MAGs, cellphones, Credit cards, etc. from falling out
QUALITY MADE Breathable elastic material which is durable and flexible non-toxicsafe and easy for concealed wearing
ONE SIZE FITS ALL Neoprene material stretches to fit up to a belly.Soft and comfortable enough to wear directly against your skin.
Can be worn inside the waistband, outside the waistband, cross body, appendix position, 5 Oclock position behind hip, small of back, and even high up like a shoulder holster under your shirt.
The Concealed Carrier Belly Band Holsternbsp
The concealment holsters fit up to 44 circumference. Measure hips or waist not pant size QUALITY MADE Breathable elastic material which is durable and flexible, non-toxicsafe and easy for concealed wearingnbsp
- Are you sick of holsters that are uncomfortable
nbsp-Does your current holster require you to wear a belt and limit your wardrobe
nbsp- Do you want to carry concealed and be comfortablenbsp
- Do you want to be able to carry different guns for different situationsnbsp
Introducing The Concealed Carrier Belly Band Holster.
nbspIf you look at other belly band holsters you will see that almost all of them are made from elastic. Unfortunately that is not the best material to make a holster from. It turns brittle after getting wet repeatedly, it has a tendency to pinch your skin and body hair resulting in pinches and pulls, and is uncomfortable against your skin.nbsp
Neoprene on the other hand is soft against your skin which is why it is used in knee braces and back braces. Neoprene also is thicker and handles the weight of a gun very well.
nbspIt provide more comfort and support resulting in a better product. Standard holsters require you to wear a belt which greatly reduces your choice of wardrobe.nbsp
With the belly band holster you can wear sweat pants, gym shorts, loose fit jeans, under a dress, skirt, yoga pants, etc.nbsp
Sizing The surgical grade elastic holster is flexible and will fit just about any pistol you own upnbspFit Glock 19, 17, 22, 23, 26, 42, 43, P238, smith and wesson,Springfield, Taurus, Kimber, Rock Island, Bersa, Kel Tec, Walther, etc.Small pocket pistols may sit deep in the holster, so if you intend on carrying a small pocket size pistol be sure that it is secure and that you can get your hand on it to draw.
Dont miss out on your opportunity to own the Conceal
---
No questions yet.