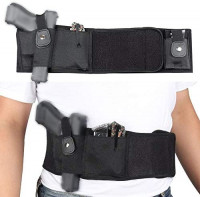 Yokin Belly Band Holster for Concealed Carry Gun Holster for Women and Men That fits Glock, Smith Wesson, Taurus, Ruger, and More -Waistband Holster for Pistols and Revolvers : Sports & Outdoors
Yokin Belly Band Holster for Concealed Carry Gun Holster for Women and Men That fits Glock, Smith Wesson, Taurus, Ruger, and More -Waistband Holster for Pistols and Revolvers : Sports & Outdoors
We will find product manufacturer, agree on the best price, organize quality control and deliver to your address at the world's lowest price.
---
CONCEALED CARRY Slim and discreet, Gun Holster is practically made for conceal carry. You need no belt or other accessories Its adjustable design provides a slim fit under your clothes so you can
FAST AND EASY The reliable metal button of the Gun Holder secures the weapon in place and ensures easy and silent access. Thanks to its improved design, the gun doesnt cling to the elastic when attempting to pull it out.
ONE SIZE HOLSTER FITS ALL FIREARMS Surgical grade elastic holster fits small subcompact, compact, and even full size pistols and revolvers. 380, 9mm, 40 auto, 45 ACP, 38 special, 357, and 10mm etc.
HARD PLASTIC TRIGGER GUARD for extra safety while carrying. Accessory pocket and Movable Spare Magazine Pouch included. Metal snap retention strap provided keeps your gun secure. you can cut off the retention strap if you prefer best speed over extra retention support Also great for AirSoft.
RIGHT OR LEFT HAND DRAW Bellyband Holster is available in right and left hand draw. Fits Glock 19, 23, 38, 25, 32, 26, 27, 29, 30, 39, 28, 33, 42, 43, 36, MP Shield, Sig Sauer, Kahr, Beretta, Springfield, Taurus, Bersa, Kel Tec, Walther, and more.
If you look at other belly band holsters you will see that almost all of them are made from elastic. Unfortunately that is not the best material to make a holster from. It turns brittle after getting wet repeatedly, it has a tendency to pinch your skin and body hair resulting in pinches and pulls, and is uncomfortable against your skin. Neoprene on the other hand is soft against your skin which is why it is used in knee braces and back braces. Neoprene also is thicker and handles the weight of a gun very well. It provide more comfort and support resulting in a better product. Standard holsters require you to wear a belt which greatly reduces your choice of wardrobe. With the belly band holster you can wear sweat pants, gym shorts, loose fit jeans, under a dress, skirt, yoga pants, etc. Sizing The belly band holster measures 5 wide x 42 long and will comfortably fit a 44 diameter. To ensure a comfortable fit simply use a tape measure and measure the area you intend to carry. If around your waist simple measure your waist and so on. Holster Sizing The surgical grade elastic holster is flexible and will fit just about any pistol you own up to a full size 1911. Small pocket pistols may sit deep in the holster, so if you intend on carrying a small pocket size pistol be sure that it is secure and that you can get your hand on it to draw.
---
No questions yet.