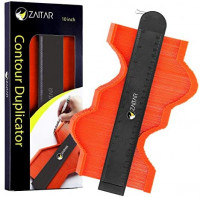 ZAITAR Shape Contour Gauge Profile Tool 10 Inch- Deep Shape Duplicator Template Tool Plastic Ruler Profile Gauge with Metal Lock-Precise Outline Gauge to Mark Odd Shapes on Tiling Laminate Woodworking
ZAITAR Shape Contour Gauge Profile Tool 10 Inch- Deep Shape Duplicator Template Tool Plastic Ruler Profile Gauge with Metal Lock-Precise Outline Gauge to Mark Odd Shapes on Tiling Laminate Woodworking
We will find product manufacturer, agree on the best price, organize quality control and deliver to your address at the world's lowest price.
---
High quality and durable Made with heavy duty metal core and ABS, ZAITAR outline gauge contour measuring tool is impactheatrust resistant as compared to metal contour gauge. Light weight, portable and washable must have for carpentry DIY tasks
LOCKING MECHANISM You can lock your shape on ZAITAR contour tool pegs to secure your measurement using a metal flip lever at the side of the gauge ensuring efficient duplication without material wastage. ZAITAR contour gauge duplicator is reliable
WIDEN DESIGN ZAITARS brand new widen design extends the gage depth up to 5, making it ideal for contouring deeper shapes meticulously. This design dimension is perfect for contouring a variety of items without any limitation of use
PERFECTION WITH EASE Enabling you to achieve excellence, precision and accuracy in all your projects, this contour gauge is specially crafted to simply trace ANY profile including odd irregular shapes. Easily reproduce EXACT replica EVERY TIME
AWESOMELY VERSATILE Great news You can use ZAITAR contour gauge for infinite applications including carpentry, car body, modeling works, construction, metalwork, woodwork, tiling, molding, floor installation, carpet laying -you name it GUARANTEED
ZAITARnbspprecision contour gauge tool consistently guarantees perfect reproduction of profiles as many times as you need with just one measurement.nbsp
Create a high precision template of any surface angle. It functions by measuring the cross-sectional shape of an object. Just by pressing the contour gauge angle measure pins against any surface or corner, one can mimic and regenerate the exact profile with absolute ease and finesse. This contour gage saves immense time and energy by eliminating the need of guessing the dimensions of any irregular surface. ItnbspGUARANTEESnbspeasy operation and success.nbsp
HOW TO USE OPERATING GUIDE
Trace it as many times as you need and the shape contour duplicator will maintain its shaped. This is a must-have essential for DIY enthusiasts and professionals.nbspHappy working
---
No questions yet.