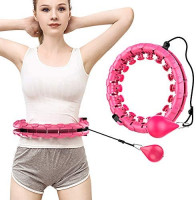 BZK Weighted Smart Hula Hoop Exercise for Adults and Kids, 2 in 1 Fitness Weight Loss Massage Hoola Hoops, 24 Knots Detachable 360°Auto-Spinning Non Dropping Hula Hoops 5lb : Sports & Outdoors
BZK Weighted Smart Hula Hoop Exercise for Adults and Kids, 2 in 1 Fitness Weight Loss Massage Hoola Hoops, 24 Knots Detachable 360°Auto-Spinning Non Dropping Hula Hoops 5lb : Sports & Outdoors
We will do a research of manufacturers of this type of product in China, agree on the best price, organize quality control and deliver to your address at the world's lowest price.
---
Fitness and MassageThis Smart Hula Hoop can quickly consume body fat and eliminate fatigue.Suitable for all skill levels from beginner to professional.You can not only get exercise but also massage your waist to achieve a relaxed state.
360Massage SurroundThe shock-absorbing massage contacts are in full contact with the muscles,strengthen the effect of exercise and .Fat burning faster 2-3 times faster burning fat than normal hula hoop.30 minutes a day to strengthen your waist.
Detachable DesignWeighted Hula Hoop composed of 24 sections,can be split and reorganized to adjust the waist size. you can choose your own hula hoop according to your waistline.It is very easy to snap together and separate, easy to store and save space.
Adjustable IntensityAdjust the length of the band to adjust the exercise intensity,the shorter the rope,the greater the intensity.Tighten your abdomen,buttocks,increase strength and keep body shape etc,are all available with the hula hoop.
Non-dropping Hula HoopAdopt flexible axle to ensure scrolling at constant speed and the smooth of the exercise.Turn the weight ball,Smart hula hoop will not fall.Let you comfortably get the ideal Figure.
---
No questions yet.